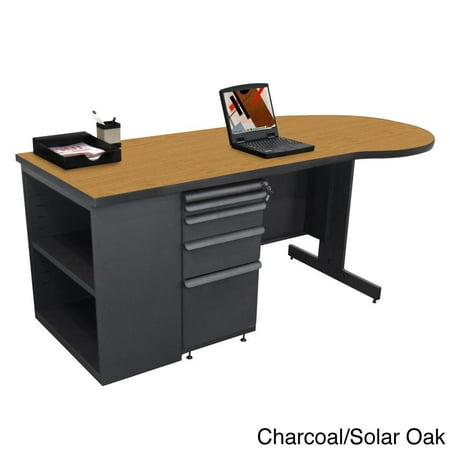 ELV1088FeaturesZapf collection3 drawers and 1 standard file drawerDesk configuration is reversibleGreenguard certifiedMade in the USATextured powder coat is one of the most durable high quality finishesDesk Type: Computer deskTop Material: LaminateBase Material: MetalNumber of Items Included: 4Drawer Pedestal Included: YesCountry of Manufacture: United StatesLocking Drawer: Yes DimensionsOverall Height - Top to Bottom: 29"Overall Width - Side to Side: 75"Overall Depth - Front to Back: 30"Overall Product Weight: 227 lbs AssemblyAssembly Required: Yes
$1,161.61
Related Products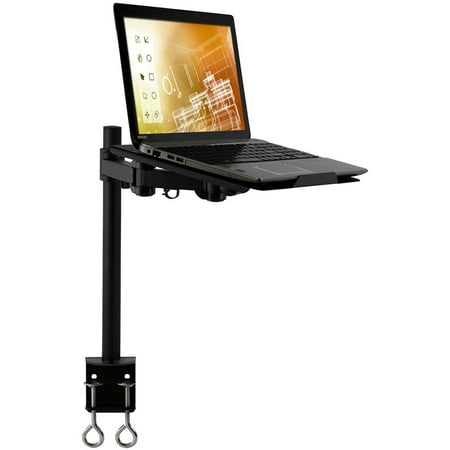 $43.99
Universal office PC riser with a large vented tray works with Sony, HP, Asus, Apple MacBook, Acer, Toshiba, Chromebook, Netbook and gaming notebooks. Supports up to one 17 inch portable computer with its platform size of 14 inch wide by 11.8 inch deep. The bottom portion of the platform has a lip to securely hold the computer in place. The mount assembly is full-motion. The arm holding the computer tray can be moved up and down on the vertical pole. The pole measures 17.7 inches from the desk surface. Dual folding arms have three joints that allows the tray to swivel/articulate left to right and towards or away from the user. The tilt angle of the tray can also be adjusted. MI-3352LT notebook stand allows you to lift the computer up from your desk surface for a sit-stand and standing workstation set up or to raise the computer screen to an ergonomic height. Optimal placement of the screen may help reduce eye, neck and back pain. Use it with a separate monitor desk stand or wall mount, or with our dual computer/monitor stand (MI-3352MN) to increase display size and quantity. Made from heavy-duty steel (arms and pole) and Aluminum (tray) materials. It can carry up to 22 lbs of load. The computer tray has venting holes to help with cooling by allowing the computer fan to discharge warm air from the computer. Heavy duty "C" clamp integrated double lock ensures stable mounting onto the desk. The clamp mounts on desks or table with a thickness of maximum 4 inches. The pole and extension arms have cable management feature to organize wires and cables. Easy to install, you will be up and running in minutes.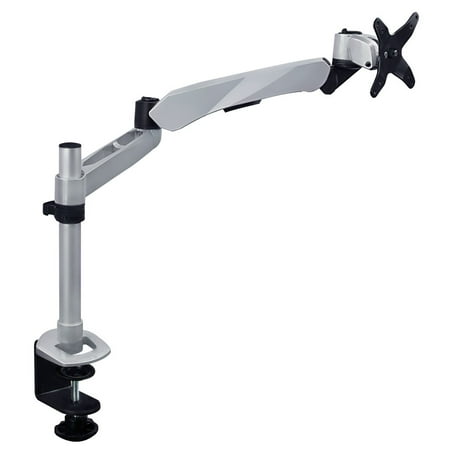 $77.77
New Functions. The common household computer screen is built with specific angling, distance, and functionality in mind. None of that comes to fruition with a static monitor stand. Articulating stands bring new life to your screen by enabling them to move freely and adjust to your needs. This mount arm can rotate, lift, lower, and swivel for a maximum range of optimal angles and orientations Rotate and Lift. Move your monitor to find an ergonomic position to reduce or prevent neck, back, and eye strain. This particular model can rotate and swivel 360 degrees at the pole and the midpoint. It can also tilt 105 degrees to fight sun glare. The height adjustment function is easy to use and lets you work while standing or laying down if needed Screen Functions. Adjust your screen to read long graphs, articles, or papers with ease and comfort. Your screen is capable of rotating an image from landscape to portrait with a shortcut key or sometimes a built in accelerometer. This articulating arm can help you take advantage of those modes by making it easy to turn your screen over 360 degrees, portrait or landscape Organizing. Using a desk mount has the added benefit of organizing your workspace. Get rid of a bulky monitor stand and replace it with this desk mount. You will notice a huge difference in the amount of space you have on your desk. The cable management ready integration also makes it easier to bundle and hide cords from view Elegant Construction. Built from die cast aluminum alloy, this mount has a high load capacity of 19.8 lbs. It is also engineered to look slim, lightweight, and install quickly. The C-clamp design is nearly universal for any desk (.79 to 2.36 inch range) and takes mere seconds to tighten. The strong construction is coupled with a sleek and contemporary silver finish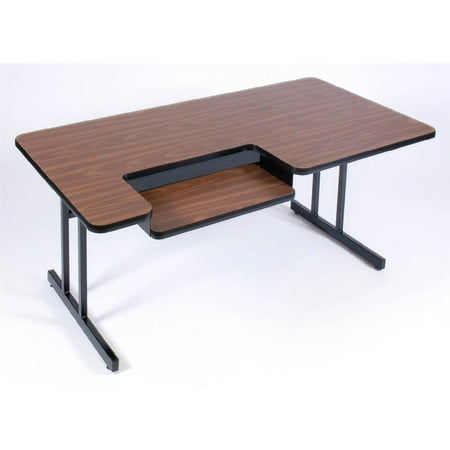 $301.02
Finish: 30 in. x 48 in./Black Granite; 1.25 in. thick real high-pressure tops with backer sheet. Sturdy all steel frames with adjustable nylon glides. Comes with one 10 in. W x 22 in. L keyboard tray. Second tray is available on 30 in. x 60 in. and 30 in. x 72 in. units. Pictured in Walnut. 30 in. W x 48 in. L. 30 in. W x 60 in. L. 30 in. W x 72 in. L.